Upholstery occupies a major part of any Household and is the elite personality that either brightens or dampens the ambience of your rooms. Upholstery fabric that adorns your furniture plays a vital role in uplifting the look of your furniture. You can play with it in a variety of colours and patterns to get the fantasy alive in your house. Re-upholster your chairs, sofas, tables, curtains with dramatic fabric patterns to refresh the look of your mundane home space. Or bring in brand new upholstery in trending patterns. The choice is yours!
Mix and match upholstery fabric patterns to spruce the mood of your home chambers. Go through the brief listing of trendy and beautiful upholstery patterns below:
Floral Pattern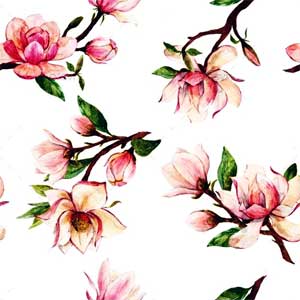 Flowers have eternally been visualized as a symbol of love, warmth, and goodwill. The floral pattern in upholstery captures this very romantic essence. It is the traditional sign of charm and feminine allure. Floral patterns can never go out of style.
They are available in a variety of floral designs. Large and bold as well as teensy florals, abstract flowers, impressionist style flowers, flowers outlined in metallic or vibrant hues as well as bejewelled florals. Large floral prints easily accentuate a room in neutral colours. Moreover mixing different small and large floral prints in the same background colour can amp the atmosphere of the room. Florals are cognate to feminism, but floral prints in large bold motifs impart a modern art aura that is affable to men too. Floral print can be readily absorbed into any themed décor; it can mix-match anywhere. It is the perfect refuge for an environment lover.
Striped Pattern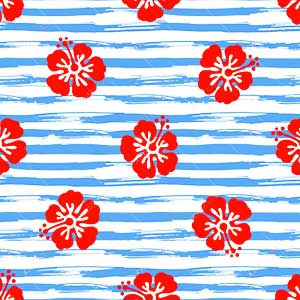 Striped print delivers an elegant and classic feel to any upholstery it adorns. It is a timeless print décor that is widely used to lend a simple and chic look to a formal living room. They can be integrated with ease into traditional as well as modern settings. Stripes usually come in two colours or at the most three shades. They are elegant and eye-catching and can add fun to a modern interior. Stripes are not boring as they come in decorative variety: Skinny stripes, Bold Stripes, Horizontal Stripes, Vertical Stripes, Ticking Stripes, Pinstripes, Sailor stripes, Multicolor stripes and lots more. Stripe-lovers have all the diversity that a simple design can offer. Add new dimensions to upholstery with this boho-chic pattern.
Geometric Pattern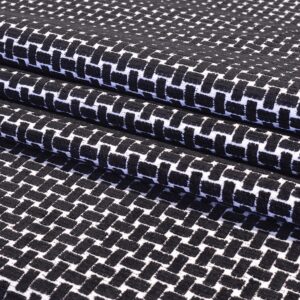 The geometric print is the simplest and minimalistic of all patterns. It is a collection of geometric shapes that generally recurs on the fabric to create a unified pattern. Striking shapes with cutting edges are characteristic to this pattern. Rectangular, checkered, greek key type prints are popular in this section. The geometric pattern is the upcoming current trend of the season. It can be integrated into an art deco, can rock a mid-century look and can enhance modern as well as retro interiors. Geometric shapes in the deep dark and rich colours are sure to create statement pieces that will bewitch your esteemed guests. However geometric pattern cannot be used to upholster a traditional piece of furniture. It will dampen the look of the piece, so it should be put to use wisely. For those who are quirky and like to experiment with shapes, the geometric pattern provides the ultimate unique and bold platform to display their imagination.
Toile Pattern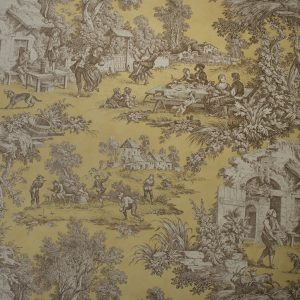 Toile is a short name for the popular fabric "Toile de Jouy". It is the pattern with the most distinctive look. Toile is a decorative pattern that depicts a common French countryside scene in a repeated fashion on the same fabric in a white or off-white background. It usually displays a fairly complex pastoral scene or a regular arrangement of flowers on a branch or tree. It comprises of the entire scene printed in a single colour on a cream based background. Nowadays multi-coloured toile are also available that have expanded the décor look of this fabric print. Exotic Chinese Themes have replaced the countryside designs on toile. These designs, when used on upholstery fabric in a room at too many places, can visually crowd the room. So use this print sparingly to maintain its aura in any room. It is not necessary that you oversaturate the room with the design to make it appealing. Toile patterns enliven any room creating a sense of old day charm and nostalgia. Sophistication with a contemporary outlook sets toile's ambience. Lately, Toile is marketed in pleats as well as used to give new look to headboards. Play with Toile to add whimsy to simplicity.
Damask Pattern
Damask fabric is a reversible fabric with figures made commonly from silk, wool, cotton, and linen. The pattern in it has a dull look while the background is glossy in the display. It is fabricated on a Jacquard loom using one warp yarn and on weft yarn: Satin/Sateen Weave. This form of weaving imparts softly highlighted fabric that reflects light at different angles. Damask pattern is commonly found in a monochromatic shade. It imparts a high-end glamorous look that adds elegance and grace to any simple and subtle room. Choose your type of damask in matte and shimmering options. Nature and geometry motifs populate the design print in damask.
Conclusion
"Decorating is not a look, it's a point of view"
Every individual has a variety of ideas. Use your imagination at will and experiment with upholstery fabric in exotic ornate patterns as discussed above. Splurge in creativity and discover your dream upholstery in vibrant patterns at Provincial Fabric House today!