Measuring chairs to estimate meterage for upholstery fabric does not have to be difficult. There are eight measurements you need to take to make sure you order the correct amount of fabric. Read our extensive guide on how to measure chairs for upholstery to find how much fabric you need!
While Fabric House is always happy to assist you in your fabric choices, you will need to be prepared with some measurements before you can be certain that we have sufficient stock of the material you choose to complete your job.
Depending on your piece, and the fabric you choose – not the material, but the pattern – you may need more or less material.
Less material for solid colours, more material for patterns.
To find out exactly how many metres of fabric you need, it's best to have the measurements of your piece and know the fabric you're going to apply – the horizontal and vertical repeat. Sometimes, it won't make a difference but for very large and unique patterns it can mean a lot more fabric.
The more unusual the shape of your furniture, or a chair in our case, the larger your pattern repeats, the more important it is to get all measurements. So, lets dive into how to measure for upholstery fabric.
To calculate fabric for upholstery, you need to take the 8 measurements below in centimetres: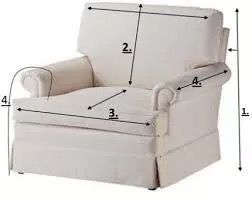 BACK:
Height of back (including skirt if applicable) and

Width across back from the edge to edge.
BACK CUSHION:
Height of back cushion and

Width of back cushion (if applicable).
SEAT CUSHION:
Depth of seat cushion or attached seat and

Width of seat cushion or attached seat.
ARMS:
Depth of arm from back to front, and

Length around the arm from seat to floor.
With all that done, you can now estimate how much material you will require and Fabric House can advise on extra requirements if you choose a patterned fabric. We're always happy to help with the process and advise you on how much fabric you should order. Once you have your measurements and you can use our Meterage and Suitability Filters within our shop, to narrow down fabrics for your needs that are within your required quantity. Due to the nature of our fabrics, once they are sold we're unable to re-stock so it's important to be sure of your needs before you order.
And that's how easy it is to measure chairs for fabric meterage. Knowing how much fabric you need for a project is the initial step to keep things running smoothly. Now you're all ready to go.
Ready to shop? Buy fabric online and choose from our beautiful range of designer fabrics suitable for upholstery, curtains & soft furnishings.
if you need more inspiration on how to bring your ideas to life, check out our socials. Our Instagram and Pinterest pages are the perfect place to do this!