Welcome! Here you'll find out How to Mix and Match Fabric Patterns for Home Décor, in some of our favourite ways to bring your home to life.
"Home is where you hang your Heart."
Home is the ultimate refuge of any social being. It is a place where love and memories are treasured. Home décor is the element that decks your house and makes it a crazy loving space to live in. Decorating one's house is like adding colour to one's memories.
Upholstery fabric is what you can play with. Colours and patterns bring out a unique edge to your homely space. But playing with patterned upholstery fabric can be overwhelming at times. This design dilemma is not every man's cup of tea.
Provincial Fabric House is here to help you tackle this decorating concept of mixing fabric patterns with ease. Decorating in simple terms is the expression of one's personality. There are no definite rules but many tips to help you nail the perfect look for your Home décor.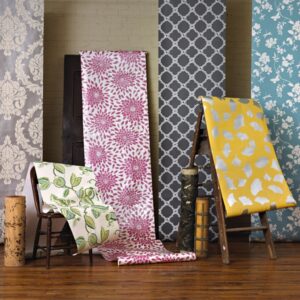 Begin with the pattern you adore.
Patterned upholstery is the show-stopper of any home décor. It displays the exuberant personality of the inhabitants of the house. So always start with the fabric pattern you love. The one you can't get out of your head! Upholster any one furniture piece in the space with the unique pattern you have set your heart upon.
Let the pattern lay the colour palette for space
Once you have decided the unique pattern; search for varied patterns, textures, and scale for the remaining upholstery in the room depending upon the colours in the specific pattern.Co-ordinating colours will help bring uniformity in the room with a variation. Staying in the same colour scheme is a great way to pull things together. You have the added benefit of experimenting with loads of patterns while staying in the same monochromatic colour scheme.
Alter the scale of the pattern

Patterns vary in sizes as well as designs.

Match a large scale pattern with a small scale pattern:

If you opt for a luxurious sofa in large scale print, then select throw pillows and cushions for the sofa in a small scale print to break the monotony.

Pairing two similar scale prints tend to look shabby.
Use large scale patterns on larger upholstery and vice versa
Large upholstery pieces like sofa or curtains demand a large scale print fabric while smaller upholstery like lampshades or pillows suit a small scale print.
Basically there are 2 designs of patterns: Organic & Geometric
A mix of the sweetness of organic patterns and a strong definition of geometric patterns imparts an eclectic but cohesive look to the room.
Always remember patterns need to have something in common: Colour/Style/Scale
Patterns need to complement each other in scale and proportion.
Spread the pattern in a neutral background
If your room tends to have the background colour in the neutral colour scheme, you have the liberty to make use of different and interesting patterns in maximum upholstery pieces without making space look overwhelming.
Don't overcrowd patterns
Except for neutral walls, try to avoid using many patterns in a particular space. The maximum use of 3 patterns is enough to make space look amazingly eye-catching.
Animal prints always win
Animal prints are easy to go patterns and always hold a win-win situation wherever you use them. They can be easily incorporated without giving a second thought. They pop out and make space look appealing.
Always order pattern swatches before ordering the final piece while shopping online
The fabric pattern will give you an idea on how to choose upholstery fabric for other furniture pieces in the room. You will have your colour palette in your hands.
Experiment with textures
To impart a warm layered look use patterns in different textures.
Accessorise to step up the glamour
Patterned upholstery can be accessorized to add interest to space. Ribbons, cords, fringes, and bobbles are few options one can experiment with. DO not just end with fabric selection, get out and flaunt the bold pieces. Jewels and sparkle also add to the ambience of the room.
Black and white
For those who do not comprehend mixing colourful patterns, for them mixing patterns in the black and white colour scheme helps make a big statement with ease.
Takeaway Message:
Always initiate home décor upholstery fabric selection with the pattern you love. Use it as the origin for designing the entire space. From there choose a few colours in the pattern. Use these colours to set the remaining tone of the room. Make use of solids and prints to deck up the room. Vary the scale of the pattern you're working with while staying in the same colour scheme.